The numerous certifications obtained by ECSA over the years are proof of our efforts and commitment in numerous fields, ranging from the quality of products and processes to the management of goods obtainment and supply.
We also carry out specific, aimed audits, according to our customers' needs, in order to assess individual suppliers.
Our premises in Balerna, Flawil and Desio have ISO 9001:2015 certification.
The Balerna and Flawil warehouses have SQAS (Safety & Quality Assessment System) report.
SQAS is a system of uniform third party assessments to evaluate the quality of performance, safety, the environmental safety of suppliers, logistics services and distributors of chemical products. The assessments are carried out by independent assessors who use a standard questionnaire.
ECSA has achieved scores well above the average in three sectors: quality, safety and environment.
ECSA Chemicals has roles dedicated to all activities related to national and international legislation.
We regularly assess our suppliers and are committed to checking, on a daily basis, all the operations that involve the distribution, sourcing, quality and documentation of the products we market, to guarantee regulatory compliance and ensure controls on every part of the supply chain to our customers.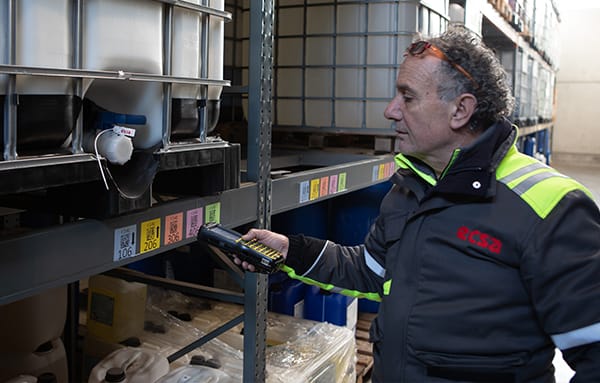 REACH is the EU regulation on chemical substances; the name is the acronym of "Registration, Evaluation ed Authorisation of CHemicals".
REACH came into effect on 1 June 2007 and replaces the previous legislation on chemical substances in the European Union (EU). The main objective of the REACH regulation is to guarantee the greatest level of safety and protection for human health and for the environment.
It is our policy to be fully compliant with the REACH Regulation and to guarantee continuity in the offer of all the raw materials included in our portfolio, to supply the same volumes of goods as in the previous years, working closely with suppliers and customers to that end. All substances subject to the REACH regulation are imported by ECSA Chemicals in full compliance with the law.
ECSA Chemicals staff includes a REACH expert who manages all activities related to this regulation. Our web site regularly publishes content with detailed information on REACH and quality topics. You are welcome to submit questions that are specific to your needs. Please visit the ADVICE FROM THE QUALITY EXPERT page and stay updated.